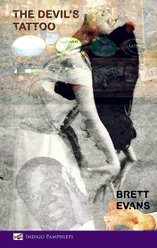 The Devil's Tattoo is Prole's very own Brett Evans' debut poetry pamphlet and is now available from Indigo Dreams Publishing.
To read four samples of the twenty poems, or to purchase yourself a copy, visit Indigo Dreams webste.
There's a sense of searching in The Devil's Tattoo, from Wales to the Wild West, the poems progress like the journey of man looking for a lost hero wherever he can. Evans looks to cowboys, villains, poets, and piss artists for answers about what a hero is, only to find the drunk wandering home, the scarecrow in his rags, men looking for ways to stay dry. This is work that cuts through machismo to reveal an aching vulnerability within masculinity itself - a surprisingly tender debut.
Angela Readman
Brett Evans' poems go rollicking through the Wild West of Wales, arm in arm with Ma Rainey, Celtic blood pulsing through their veins. Pints of stout are priests and Jesus is dancing with the Devil on his back. Evans sees his blurred reflection in the river and doesn't hold back.
Martin Figura
Brett Evans has a knowledge of darkness and depth, light, frustration, outskirts and intelligence. His pen paints a complete picture of emotion and detail with an eloquence and understanding of things that only some people can fathom and a bright few can describe. The Devil's Tattoo wrapped me around my core with an innate comprehension and beautiful lyricism.
Meschiya Lake
_____________________________________________